Benvenuto su Revoltrace!
What is ReVoltRace?
ReVoltRace is an online racing community dedicated to the old school RC racing game Re-Volt. Here you can:
Still an active racing community since 1999
Yes, Re-Volt is that old school radio control car racing themed video game released by Acclaim Entertainment in 1999. The fact there still is an active community playing this game proofs that this was and is a great game.
The racing competitions we play are mostly stock tracks (such as Toys In The Hood, Ghost Town, Toytanic, Toy World and Botanic Garden) and monthly changing custom tracks (new ones and classics such as PetroVolt, Venice, Rooftops, Helios, Re-Ville, RVTemple etc), normally using the Toyeca car (considered the best Re-Volt stock car based on handling and speed, although some prefer other cars like Adeon, Humma or Cougar).
Month Tracks Result
su Domenica, 30 aprile 2017
Top 5 racers of March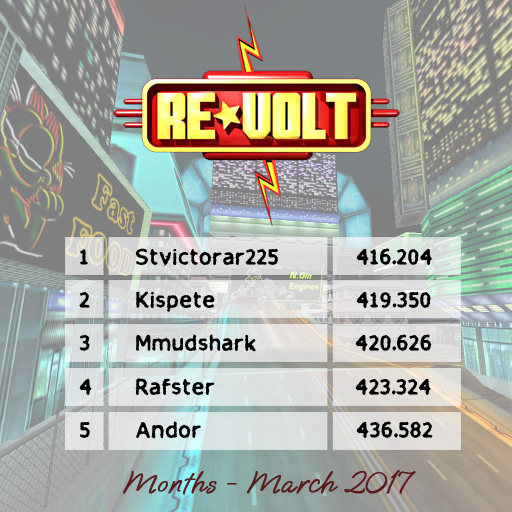 ReVoltRace dà il benvenuto ai nuovi utenti
su Domenica, 30 aprile 2017
Buon Compleanno!
su Domenica, 30 aprile 2017
ReVoltRace dà il benvenuto ai nuovi utenti
su Sabato, 29 aprile 2017
Nuovi risultati
su Sabato, 29 aprile 2017
ReVoltRace dà il benvenuto ai nuovi utenti
su Sabato, 29 aprile 2017
Nuove piste aggiunte
su Giovedì, 27 aprile 2017
ReVoltRace dà il benvenuto ai nuovi utenti
su Martedì, 25 aprile 2017